Main image
Click to view image in fullscreen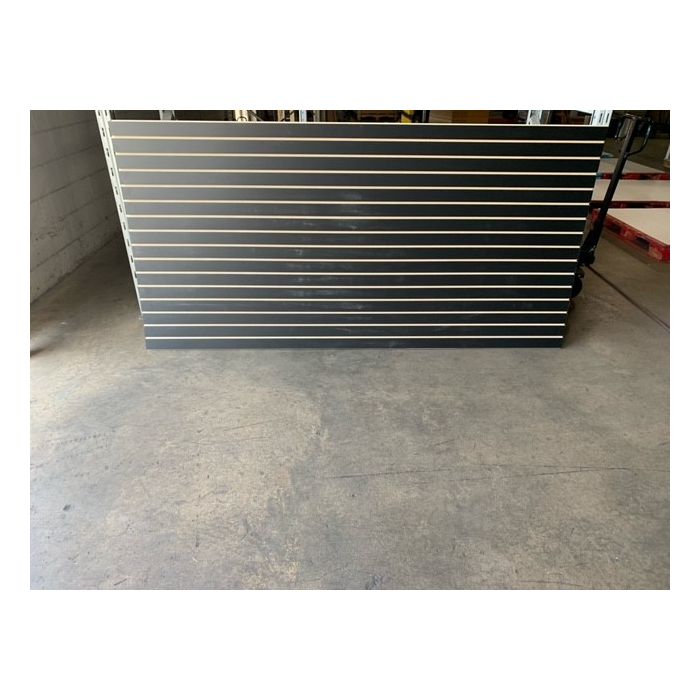 BLACK SECONDS SLATWALL
4'H X 8'L PLEASE NOTE THAT SHIP ORDERS OF 10PCS OR LESS WILL BE CUT IN HALF TO 4'x4' PCS TO SHIP WITH LESS CHANCE OF DAMAGE AND CAN BE LIFTGATE UNLOADED
Description /
BLACK SECONDS SLATWALL
3" ON CENTER SLOTS
MELAMINE LPL FINISH
SECONDS SLATWALL IS SCRATCH AND DENT. THIS MEANS THERE MAY BE AREAS WERE THE PAPER IS TORN ON THE BOARD, DENTED ON THE CORNERS, OR SCRATCH ON THE SURFACE. ALL SECONDS BOARDS COME AS IS AND ARE NON-REFUNDABLE. PHOTOS ARE EXAMPLES OF DAMAGE AND NOT EXACTLY THE SECONDS YOU WILL ALWAYS RECIEVE CONDITION WISE. 
BLACK SECONDS. IF YOU ARE LOOKING FOR A SPECIFIC COLOR PLEASE CALL US! WE HAVE MANY UNIQUE COLORS AVAILABLE.
WEIGHS 80 LBS EACH SHEET
SHIPS VIA FREIGHT TRUCK 
Crate charges will apply. For orders of 1-10 sheets, the crate charge is $35 and the slatwall will be cut into 4x4 sheets for shipping.  For orders of 11-25 sheets, the crate charge is $75 and the slatwall will ship in 4x8 sheets. Max of 25 sheets per crate. Please call for orders over 25 sheets.
ORDERS SHIPPED 4'X8' WILL REQUIRE YOU TO HAVE LABOR TO HAND UNLOAD THE SLATWALL. TRUCK DRIVER DOES NOT HAND UNLOAD!!
(PLEASE NOTE THAT SHIP ORDERS OF 10PCS OR LESS WILL BE CUT IN HALF TO 4'x4' PCS TO SHIP WITH LESS CHANCE OF DAMAGE AND CAN BE LIFTGATE UNLOADED)