It is selling season – so you book a booth at a popular craft show, or short-lease a space for a pop-up shop. Now it's prep time and you need to not only recoup your cost, but you want to attract returning customers to continue sales beyond the event! Here's a few tips to handle it like a boss!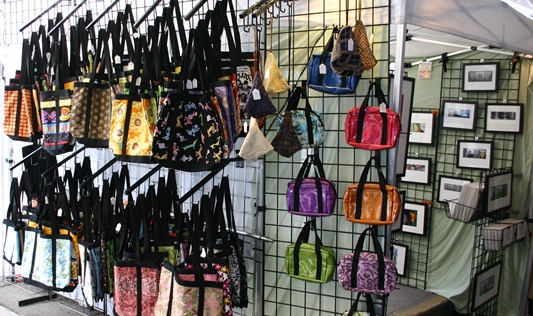 1. VISUAL DISPLAY IS EVERYTHING
You're in a crowded market and you need to differentiate yourself from the herd. Buyer's first impression will many times influence the success of your sales. When designing your space, think of 1) your personal style 2) your target customer 3) the venue environment. You are trying to tell customers who you are and what your product is about. Look at your venue from a shopper's standpoint, is it inviting, interactive, colorful, and attractive? Or, is it boring and flat? Make a space for several shopping stops for customers, 1) immediately outside the booth to draw in passersby, 2)a shopping area on the front area and 3) a 'clearance' area in the rear.
2. THE RIGHT EQUIPMENT
If you are selling apparel, have clothing racks, hangers, mannequins, mirrors and tables to allow your customers to shop easily. Place your mannequin in the front of your space to help customers visualize your product on themselves. Make sure the clothing you have on the form is immediately accessible next to or near the display. Put several small clothing rack spaces so customers don't have to crowd around one area. Put a full length mirror in your space so people trying on your product can see how awesome it looks on them. Use table clothes, wooden crates or even vintage furniture to create a 'lived in' appeal for your product displays.
Jewelry is extremely popular in art shows and pop-up shops because it is a small item and instantly wearable. Invest in high quality jewelry display forms if you are selling jewelry. Create a visual vignette of your pieces, and use small glass display cases, as well as standing countertop displays around your booth to let shoppers browse in several spaces.
If you are selling gift items, have tall shelves and tables to set up vignettes for your products both at waist level and eye level. For pictures, set up a gallery space using grid panels and a front browsing space for prints. Remember that you are the best equipment or fixture for your products, wear your apparel, jewelry or be using the gift item you are selling.
3. MARKETING IS MARVELOUS
Social media is cheap, pervasive and effective. Starting with family and friends to advertise your event, and encouraging them to include their friends is the best start. Having a supportive community is the foundation to a strong marketing plan.
Find out where your target customer gets their news on craft fair or pop up events. Put up flyers at local craft stores, popular businesses, cafes, restaurants. Stage a 'giveaway' event on Instagram for the first 10 customers to your venue.
Boost a post on Facebook for users in the area of the venue to advertise your event. At your event – have an email sign up sheet to collect email IDs for future marketing campaigns. If someone is interested enough to ask for more information – by all means give it to them!
Lastly, have business cards that have your store name, on-line web-site, email address, phone number and photo. Keep these handy all over your space. Make sure that if a customer purchases an item, that your company name and web site is available to them in case they get home and want to buy more. Vistaprint is a good source for business cards and post cards.
4. HOW MUCH IS THIS?
Price everything. Use stickers, clothing tags, table top cards, or even signage to advertise the price of your product. Don't leave customers guessing on prices. It's sometime uncomfortable for a customer to ask for a price and it also sets expectations on what things cost in your shop . Advertise sales items prominently as well as bundle pricing too.
5. BRUSH UP ON YOUR SALESMANSHIP
Be available to your customers, and don't be engrossed in your phone or talking to other vendors. Engage your customers by breaking the ice about questions on their interests, purchases or experience at the venue. A customer who is engaged feels more comfortable with purchasing your product, once they build a relationship with you. No need to oversell your product or be pushy.
Alternatively, know that some customers want to be left alone, but want to know that should they have any questions that you are available. Definitely make eye contact, smile and say hello, read the person's reaction. Their body language will tell you if they wish to engage or simply shop.
6. WRAP IT UP!
Investing in packaging supplies leaves your customers walking away with a great branding tool for your shop. Offer shopping bags that are branded with your store name - you can either do-it-yourself with labels or stamps or get logos printed professionally . These merchandise bags are great totes and inexpensive.
Having a tissue paper with your shop color is also a good idea especially if you have fragile items. Top it off with inserting your business post card in the package.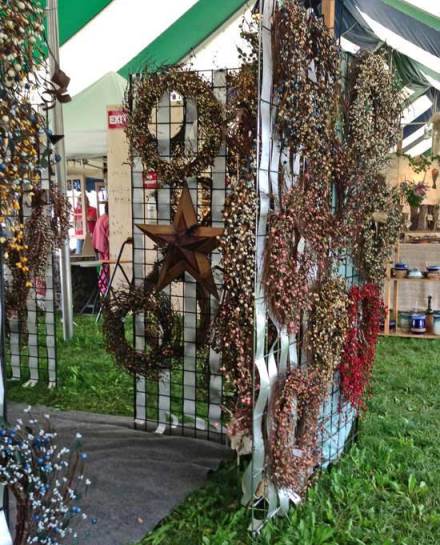 7. UPDATE YOUR TECHNOLOGY
Most customers are moving to electronic payment. Invest in a tablet with a reader to accept credit cards (Square is a great tool or if you have PayPal accounts, use PayPal Here. Make sure you advertise that you accept them at your POS by creating a sign using Canva, a free online photo editing tool.
Use electronic LCD frames fed by a USB flash drive to scroll through a photobook of your previous work so customers can see what other products you sell.
Another good technology investment is a 'WiFi hot spot' that you can use with your wireless phone provider. This allows your technology to have internet access regardless of whether there is wifi provided by the venue.
8. REFRESH OFTEN
You'll find that you will have to refresh and reposition items often as sales begin to empty your space. Bring extra stock of small items or best sellers to re-stock as the event continues. Nothing turns off customers more than to see a sparse inventory as they may pass you up as not being worthy of stopping in to browse. Keep your displays fresh by rotating items from the back to the front of shelves.
9. SALES ARE IMPORTANT BUT SO IS THE EXPERIENCE
Yes you are there to make money or at the very least recoup cost. However, remember to focus on the experience – making the most of meeting customers who can become future customers and vendors who can give you tips on other great venues. Learn from the experience, and if the sales aren't quite what you want just yet, don't give up but get better!