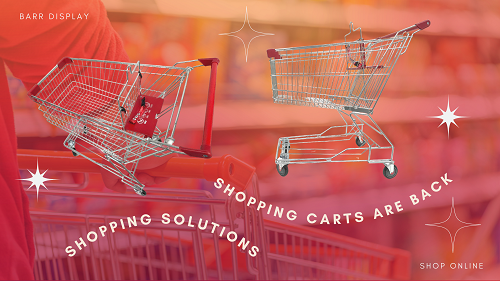 Shopping carts and shopping baskets are two essential tools for retail stores, helping customers carry their purchases around the store and checkout more easily. Choosing the right shopping carts or baskets is critical to creating a positive shopping experience for customers.
Shopping carts are ideal for large grocery stores and supermarkets. They are usually made of metal or plastic and have wheels, making it easier for customers to maneuver them around the store. Some shopping carts are equipped with a child seat and a folding seat, making it convenient for families with young children to do their shopping.
Shopping baskets, on the other hand, are smaller and less complex than shopping carts. They are often made of plastic or woven materials and are typically used in smaller retail stores such as convenience stores, boutique shops, and specialty stores. Shopping baskets are lightweight, making them easy for customers to carry, and they take up less space than shopping carts.
Both shopping carts and shopping baskets serve a similar purpose, but they are designed to meet different needs. When selecting the right shopping carts or baskets for your retail store, consider factors such as the size of your store, the type of products you sell, and your customers' needs.
We offer a wide selection of shopping carts and shopping baskets to meet the needs of retail stores of all sizes. Whether you need metal shopping carts or plastic shopping baskets, Barr Display has you covered. Browse our online store to find the right shopping carts or baskets for your retail store.
---
---
Shopping carts play a crucial role in providing customers with a convenient and enjoyable shopping experience. It's always exciting when they're back in stock and ready to be used. Our retail store is thrilled to announce that we have a wide variety of shopping carts available now, with more on the way. Whether you're shopping for groceries, running errands, or just need a little extra help carrying your purchases, our shopping carts are here to make your life easier.
Our shopping carts are made from high-quality materials, including metal and plastic, and are designed to be durable and long-lasting. With their sturdy construction, spacious compartments, and easy-to-maneuver wheels, these carts are the perfect solution for all your shopping needs. Additionally, many of our carts feature a child seat and a folding seat, making it easy for families with young children to shop together.
So, if you're looking for a convenient and comfortable shopping experience, be sure to stop by our retail store and check out our shopping carts. With plenty of options to choose from, you're sure to find the perfect cart for your needs. Don't miss out on the chance to make your shopping trips easier, come visit us today!