Many new store owners are challenged with beginning a business not only on a tight budget but also a tight space to sell from! Often times the first store location is between 1,000–1,500 sq. ft. When a business owner is tasked with merchandising as well as storage in a small space, it takes creativity to ensure there are enticing products, displayed conveniently while always ensuring inventory is in stock. Here are six simple and affordable ways to maximize a small retail space: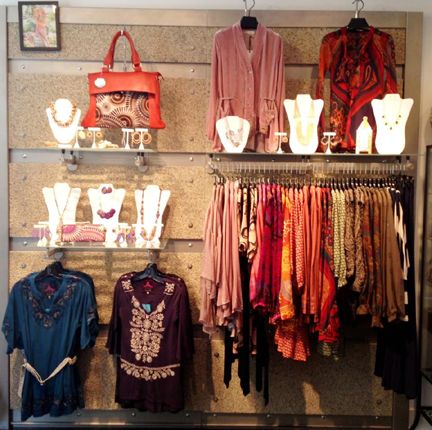 1. Use your walls: Walls are where additional 'floor space' can be found. By using wall fixtures to add shelves, clothing racks, signage and displays, a store can often triple the product merchandising area. Look into systems such as grid wall panels and accessories, or slatwall panels and accessories to incorporate into the store layout design. Using accent paint on the wall to highlight store logo colors is a great way to brand the space as well. Keep displays up high towards the ceiling to not only draw interest to the product but also to be a guide post for customers on where to find a particular item. Display vignettes are great ways of giving ideas to shoppers on how to use the product and create a buying desire.
2. Create an inviting entrance: Greet customers at the front door with the latest product and specials to set the tone of the store. Keep the display uncluttered and to-the-point with store signage on display tables. The front display should be low enough for customers to see the entire store to encourage more shopping. Using neutral colors, such as ivory and gray for furniture and larger items can create a great base from which to accent with smaller brightly colored items.
3. Build great endings: Putting sales items at the back of the store on clearance racks or on end-cap shelves can be a great way to draw customers further into the space to bargain hunt. Along the way they may be enticed to fill their shopping carts or hand baskets with newer merchandise too. Be sure to keep the sale sections free of clutter and regularly hold a sidewalk sale with out-dated merchandise or seasonal merchandise to move product better and generate a loyal following. Use rolling racks to set up side-walk sales or shelving on wheels to keep things mobile for set-up each day during the sale.
4. Stay in stock: Nothing worse than a customer asking for an item and being out of stock. It's a lost sale, and loss of sales can often lead to loss of business if a store is not consistent with fulfilling customer needs/wants. Use an area at the rear of the store for stock room shelving like gondola shelving to stock items for the floor. Don't forget to use hidden floor space for stocking too – such as display tables covered with a table cloth is a good way to store items for re-stocking too.
5. Lighten up: Lighting is important in a retail shop, but it's particularly crucial in tight spaces. If a corner of the store is not well lit, that square footage not going to be profitable. Use a combination of track lights or well placed led light strips to highlight dark areas. This mixture will not only ensure that your entire space is well lit, but it also will add interest and variety. Lighting in display cases can also create a bright space to highlight merchandise.
6. Don't forget the check-out: Remember the check-out counter is the last opportunity to grab more sales opportunity with customers. Use check out counters to add shelving for point-of-purchase merchandise or put a countertop display of small impulse buys for customers to easily add to their order check-out. Check-out counters with slat-wall fronts are perfect for this purpose as well as glass display cases.