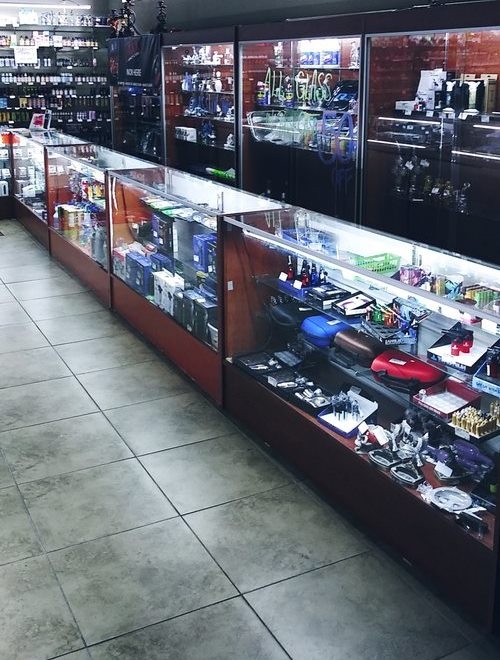 The vape and tobacco market is booming these days! Whether you are a novice, just thinking about getting into the market, or an old pro with a couple of stores, there always are new ways to brand and market your emporium.
We have helped over one thousand new vape shop owners get established with their stores and have come up with a checklist of the things you'll need.
Location:
One of the current challenges in the marketplace is location, since many cities have too many vape shops and others don't want them. This has become a huge problem and in many cases a great location doesn't always make you a great shop, even though you may be profitable.
Make sure the city you choose has vape shop friendly ordinances. Selling tobacco, CBD oils, e-liquids and atomizers often have built in regulations in some areas. Make sure your target location is free of too many restrictions on your product lines you want to carry.
In-side the Shop:
Vape shops often have small products and having enough shelf space to properly display those products is essential. While making enough space for product, the retail space should also be inviting to customers too. Mainly allowing for a space for customers to relax and enjoy the space. This may mean seating, music, and lighting and other furniture that invites them to stay and shop.
With this in mind we've made a checklist to help:
Shelving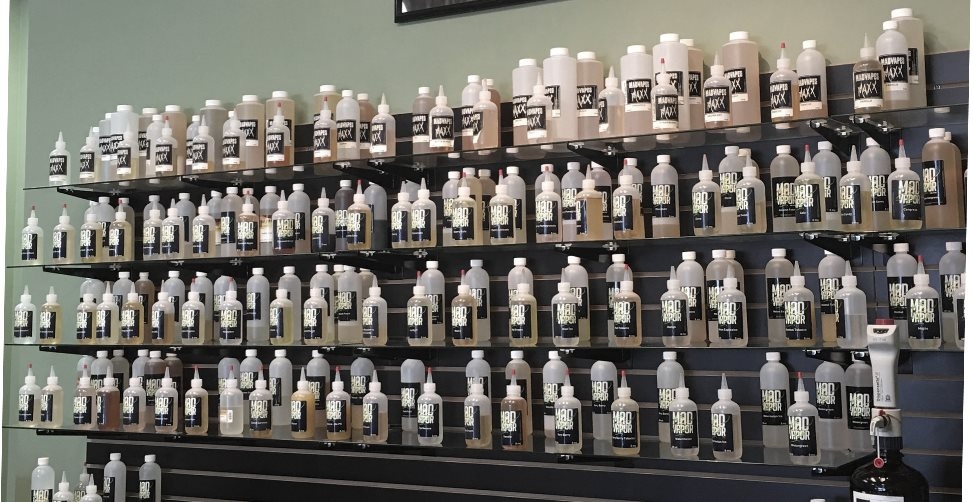 Display & Organizers
Signage & Lighting
Store Supplies
By lining the walls with the slatwall shelving system, glass and candy shelves, the shop's inventory can be within arm's reach at any time. Adding secured glass front wall cases and display cases with proper lighting can highlight some of the higher priced merchandise such as atomizers and hookahs. Oils can be displayed on acrylic risers within the showcases or on the shelves.
Keep your customers aware of store promotions or new products with store signage such as the scrolling message boards or promotional posters. Impulse items can be stocked at the point of purchase on countertop racks or cases to make last minute add-ons easy for the customer.
Finally packaging your small products in re-sealable bags keeps the purchases secure and organized for your buyers. Remember to get bright merchandise bags to help brand the experience.
Ambience:
Keep your customers entertained with music, videos and a relaxation space while they shop. Many of our stores set up a bar space for vaping, and provide a lounge with comfy seating and entertainment. Art work within the store should not only reinforce your brand, but also be engaging to your shoppers.
Don't forget to offer free wifi as a customer loyalty program. These small things make a great space for both customers and employees which are essential ingredients for stellar customer service!
Stamps Store Fixtures offers a wide range of choices of store fixtures and supplies to fit your retail store needs. Our vape store displays and equipment are a popular choice and we have outfitted stores nationwide. See a full product list of vape store fixtures at our Tobacco & Vape Store page for quick shopping and find out how low your shipping can be before you even check out! Our knowledgeable sales associates are available Monday thru Friday 8:00am to 5:00pm EST to help you with your questions at 404-691-0087!